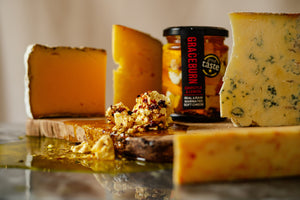 The UK has some of the best cheese makers in the world, and we pride ourselves on being distinctly British.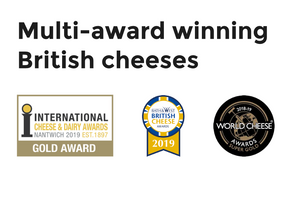 Our premise is simple: we find the best British cheeses and deliver them freshly cut and chilled to your door, all sustainably packaged.
And for every cheese box we send out, we'll donate a meal to a Trussell Trust food bank on your behalf. Simple.
Why not try a cheese box to get you started?
Cheese Boxes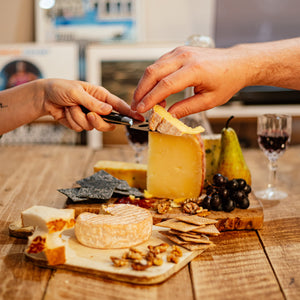 The Cheese Collective Festive Hampers are now available!
Every year we curate a box that includes a selection of our favourite cheeses!
Our Small Festive Hampers includes 5 award-winning British cheeses, crackers and Galloway Lodge's chutney.
Our Large Festive Hamper includes a whopping 10 cheeses, 2 packs of crackers and 2 Galloway Lodge's chutneys.
From £47.50, both include FREE weekday delivery and foodbank meal donation.
Check out what cheeses are included here!
Festive Hampers
The Cheese Collective X Jura Whisky pairing box
The Cheese Collective and Jura Single Malt Whisky have joined forces to create a bespoke box of award-winning artisan cheeses paired with beautiful Jura Whisky.
Each box will include 4 award-winning British cheeses that have been hand-picked for the perfect pairing alongside a Jura Single Malt, as well as collectible information cards, celebrating the history of both the cheeses and whiskies. 
Check it out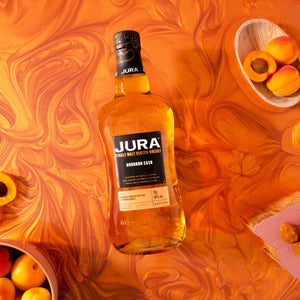 The Cheese and Meat hamper
This hamper is jam packed full of cheesy, meaty deliciousness - a full range of British beauties that pair together masterfully!
You can also add on a bottle of Chapel Down Brut NV sparkling wine to your board for the perfect sparkling accompaniment. Made in Kent, Chapel Down are celebrated as one of England's finest wine makers.
The Cheese and Meat Hamper includes:
5 award-winning British cheeses (Mayfield, Yorkshire Blue, Baron Bigod, Wesrcombe Red, Keens Cheddar)
Accompanying information cards detailing the cheesemaker, history and awards
3 meat mixed charcuterie board from Bray Cured (120g), e.g Berkshire Salami, Fennel Salami and Air Dried Pork Shoulder
Trussell Trust food bank meal donation
Free weekday delivery
Check it out!
Join The Cheese Collective
We offer Classic Boxes and Subscription Boxes.
Subscribe to The Cheese Collective and each month you'll receive a new selection of award-winning British cheeses ranging from traditional favourites to more unusual varieties.
Customise your box around your preferences with options to exclude blues or goats, or to opt for vegetarian-only cheese
Every month you enjoy your cheese, we'll donate a meal to a Trussell Trust food bank on your behalf.
Starting from only £33/month with FREE weekday delivery.
View Subscription Boxes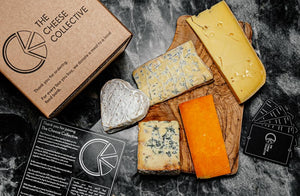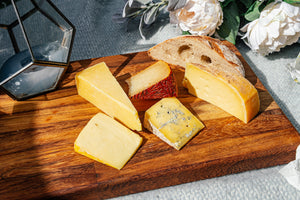 Classic Boxes
Here at The Cheese Collective we offer a range of cheese boxes outside of our subscription offering, and they're all brie-lliant, if we do say so ourselves...
Why not try The Introduction Box, The Summer Box or The Indulgence Box?
Starting from only £38 with FREE weekday delivery.
View Classic Boxes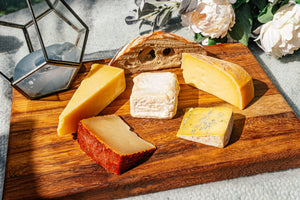 Babs - Northumberland
"We were absolutely flabbergasted with the fantastic cheese parcel!"
Christine - Stockton-on-Tees
"Perfect gift for those you can't be with this year"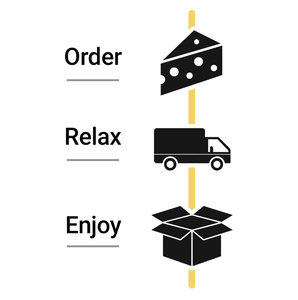 Step 1
Once we receive your order, a selection of our award-winning British cheeses will be cut and wrapped just for you.
Step 2
Whatever the weather, your cheeses will arrive to you perfectly chilled. We use recycled cardboard boxes insulated with compostable and reusable wool liners, ensuring you won't receive a melting puddle of cheese fondue...
Step 3
The saying goes "Here today, gone tomorrow" and that's certainly true when it comes to our deliveries! Order before 2pm and we'll send you your cheese the next day.
We're partnered with The Trussell Trust
The Trussell Trust, the UK's biggest food bank network, reported an 89% increase in demand in May compared to April, while the Independent Food Aid Network recorded a 175% increase over the same period.
Despite this surge in demand, individual donations have fallen, and many food banks have been forced to function with minimal volunteers.
For every cheese box ordered, we'll donate a meal to a Trussell Trust food bank on your behalf.
Our work with The Trussell Trust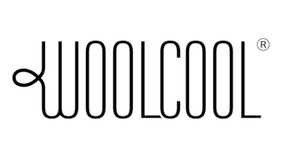 Our cheeses are delivered in eco-friendly boxes made using recycled materials.
To ensure your cheeses remain chilled, we've lined our boxes with state-of-the-art WoolCool wool insulation liners which are compostable and reusable.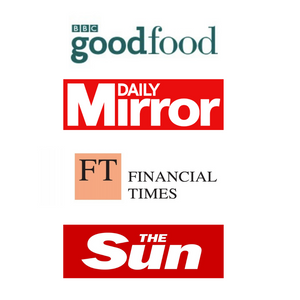 As featured in...
The Cheese Collective has been featured in several prestigious outlets, including BBC Good Food, Financial Times, The Daily Mirror and The Sun. Read more about our coverage here!
Find out more